7 November 2016 | Vasse Felix
White Wine of the Year 2016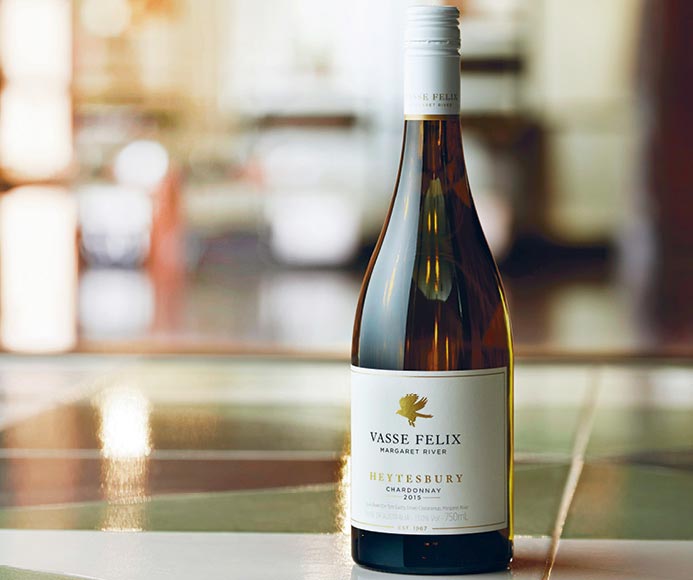 Ray Jordan (The West Australian Wine Guide) has awarded the 2015 Heytesbury Chardonnay White Wine of the Year for the second consecutive year.
Ray Jordan's annual wine guide released in early November includes reviews on six of our wines including the 2015 Heytesbury Chardonnay receiving the award White Wine of the Year.
"With this exceptional chardonnay Virginia Willcock and the team have taken things to an altogether new plane of excellence. The degree of palate complexity and intensity combined with how it delivers through to a long finish is brilliant. A modern chardonnay with underlying Margaret River power."
2015 Heytesbury Chardonnay - 98 Points
Oh my, this is seriously good. The chardonnays at Vasse Felix have been on the up for a number of years but it's hard to remember a better one. Such intensity, such power and yet such elegance and poise. The fruit is expressed with equisite precision on the palate with the pristine nectarine and crunchy lemony pear and subtle grapefruit a compelling combination. A smidgeon of toasty oak completes a stunning wine.
2015 Chardonnay - 96 Points
Thoroughly beautiful expression of Margaret River that shows the continuing evolution for this variety at Vasse Felix. It's restrained and almost delicate, yet there is still all that underlying Margaret River intensity that drives through to the finish. Great texture and mouthfeel with a lively mix of nectarine and subtler stone fruit all perfectly harnessed with an exquisite touch of oak.
2014 Cabernet Sauvignon - 96 Points
Cabernet, like chardonnay has been a particular focus for Vasse Felix. This is a special wine from a special vintage. Elegance and refinement personified. Leafy floral notes on the nose. But it is the palate that really sings. It's relatively tight with a core of fine oak and firmish silky tannins, but there is sweet fleshy fruit held with focus that extends effortlessly to the finish.
2015 Sauvignon Blanc Semillon - 95 Points
A blend that takes the usual fare for this combo to another plane of excellence. Superb aromatics of honeysuckle, tropical fruit and subtle lemon stone fruit. The palate is just beautiful with deep complexity and flavour. The fruit is still dominant but there are other factors at play which elevate this. Finishes crisp and precise.
2015 Filus Chardonnay - 91 Points
Pure and vibrant expression of chardonnay at what is the entry level for Vasse Felix these days. Crunchy with a vibrant minerality and pristine fruit definition. Such fine delicate lines persistent through to the long finish.
2014 Filius Cabernet Sauvignon - 94 Points
What a stunning cabernet for the price. This is now the third tier behind the Marg cabernet and the Heytesbury, but in some ways that does it a disservice because it is a good wine. Tightly focused and structured in classic cabernet style. Leafy black fruit with a dusty cedary influence. Very good wine.