1 May 2018 | Vasse Felix
VINTAGE '18 - A SEASON FOR THE VINES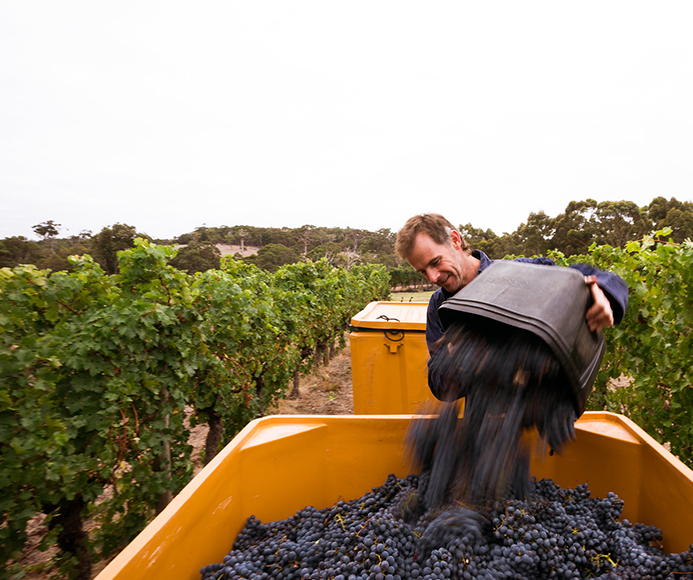 By Chief Viticulturist Bart Molony and Chief Winemaker Virginia Willcock
Similar to 2017, this has been a season of cooler than average conditions. Spring and December delivered intermittent summer and winter weeks leading into the growing season, then average temperatures 1.5 degrees lower than the 18 year average followed in January and February. When some late January rain arrived we became rather nervous about ripening.

Somehow, Margaret River has delivered a beautiful growing season for the vines, with ample sunshine to aid vine function, while strong daily sea breezes have preserved vibrant fruit flavours and acidity.
Harvest began on 7 February, one week later than our 10 year average, although two weeks earlier than last year. Our white varieties ripened with beautiful sugar and flavour, and for the third consecutive year maintained high acidity. The weight, flavour and structure in our Chardonnay is amazing, and while we are looking forward to some malolactic fermentation to moderate acidity, the Chardonnays look very exciting.
Also exciting, was the first harvest of Gingin Chardonnay that was grafted into our Gnarawary Vineyard in Wallcliffe in 2016. The only disappointment across all vineyards? Chardonnay yields are low. We believe this is due to spring conditions which affected fruitful shoot development and flowering.
Sauvignon Blanc has been a lovely surprise this year, achieving wonderful ripeness in the cooler season. There was considerable disease pressure in Sauvignon Blanc from our most southern Karridale Vineyard, however our Viticulture team managed this superbly. Damage was minimised and excellent ripeness achieved from their tireless work, opening canopies with leaf plucking and fruit thinning.
We've developed multiple winemaking projects this year with Sauvignon Blanc. These include our first carbonic macerated Sauvignon Blanc, adding to the existing full skins Sauvignon Blanc project. The main aim for these projects is to challenge and improve our winemaking for the Sauvignon Blanc Semillon. Both are looking fantastic.
A continuation of dry, sunny but moderate to cool conditions allowed Cabernet to ripen beautifully with excellent flavour ripeness and retention of fruit perfume. The cool dry conditions allowed hanging to deliver fine tannins at a high quality level with the similar development time to the 10 years average.
In between the harvest, our vintage crew ensured that each block received a good drink post harvest to aid the vines in preparing for winter dormancy. This is an essential part of closing the vintage season successfully and setting the foundations for a fruitful following year.
Whilst we haven't had as much fruit as we usually do, the vineyard itself is looking healthy and sustainable for the next season.