19 April 2018 | Vasse Felix
Ray Jordan Awards 2014 TOM CULLITY 99 Points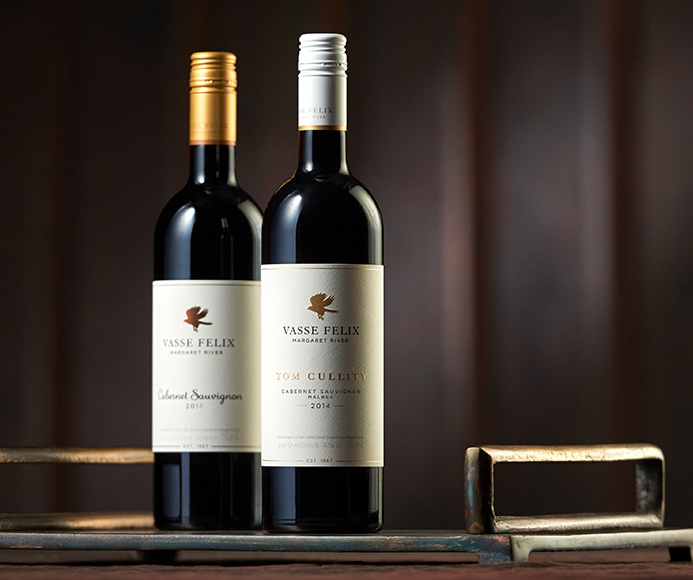 One month from the official global release (1 May 2018) and the 2014 TOM CULLITY has received some stellar reviews. Most recently, Ray Jordan (The West Australian) awarded the 2014 TOM CULLITY 99 points, describing it as "unlike anything seen before in the region."
The inaugural TOM CULLITY release - the 2013 vintage - achieved the greatest critical acclaim of any Vasse Felix red wine in history and the winemakers and Ray Jordan believe the 2014 vintage is even better, "the release of the extraordinary Vasse Felix TOM CULLITY cabernet sauvignon malbec, which I have given 99 points, might just be the wine to deliver irrefutable proof that 2014 is the greatest Margaret River cabernet vintage," Ray Jordan said in the review published in The Weekend West, 7 April 2018.
Ray Jordan is a highly respected Western Australian wine writer who has been has been writing about wine for more than 30 years.
"Over 40-odd years I have tasted some extraordinary Margaret River cabernet and cabernet blends from all the great wineries but none has been better than the 2014 Tom Cullity." Ray Jordan
RAY JORDAN'S REVIEWS:
2014 TOM CULLITY - 99 Points
Wow this takes Margaret River to another level. There is a purity of fruit and a vibrancy evident here. Power and elegance unlike anything seen before in the region. Oak and fruit with grainy tannins in perfect harmony creating an almost satiny mouth feel. Perfumed with notes of cedar and red berry and violet. A raw edge with graphite and seaweed complexity. The chalky tannins define the palate, which is focused and sustained. Best drinking: Now until 2040
2015 Vasse Felix Cabernet Sauvignon - 97 Points
Captures the elegance of this great vintage. Doesn't have the density and opulence of the 2014 but there is classic angular structure. Typical graphite, soy and savoury notes with a hint of tobacco leaf with black olive nuance. Classy oak integration and fine-grained tannins. One of the very finest that marks the next statement of Vasse Felix cabernet. Ridiculously cheap for a wine of this quality. Best drinking: Now to 2030
2015 Filius Cabernet Sauvignon - 93 Points
No winter cellar will be complete without this cracking value for money cabernet. So stylish with chalky sinewy tannins and leafy fine fruit. Has a balance and intensity with poise and expressiveness. Touch of oyster shell and a savoury influence. An entry level cabernet, that many would love to have as their best wine. Best drinking: Now to 2028