22 August 2016 | Vasse Felix
Halliday Gives Heytesburys 97 Points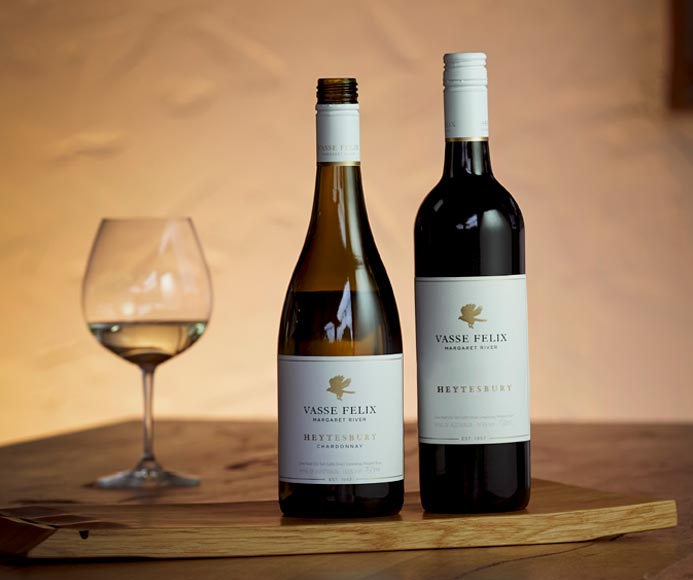 James Halliday's Australian Wine Companion 2017 has officially been announced, with both Vasse Felix Heytesburys receiving a score of 97 Points.
"The leader of a great trio of Vasse Felix Chardonnays. A magical combination of grace and power." (2014 Heytesbury Chardonnay)
"The icon red of Vasse Felix, a remarkable medium-bodied wine." (2012 Heytesbury)
The Halliday Wine Companion, recognised as the industry benchmark for Australian wine is eagerly anticipated year after year for winemakers and wine lovers alike.
James Halliday's Reviews:
2012 HEYTESBURY - 97 Points
The icon red of Vasse Felix, a blend of cabernet sauvignon, malbec and petit verdot, bypassing merlot. The perfumed bouquet stands on its own considerable merits, but it is the implacable insistence of the blackcurrant fruit, wrapped around the juicy malbec, that lifts this wine onto another plane. Is it medium-bodied, medium to full-bodied or full-bodied? It all depends on which facet you concentrate on, but for my money, it's a remarkable medium-bodied wine.
2014 HEYTESBURY CHARDONNAY - 97 Points
The leader of a great trio of Vasse Felix Chardonnays, hand-picked, chilled, basket-pressed to French barriques (64% new), with some natural, although unintended, mlf, barrel sorting after maturation is the key. Here energy and drive are easily matched by the complexity that is the ever-present fingerprint of Heytesbury. A magical combination of grace and power, with prodigious length to close.
2013 CABERNET SAUVIGNON - 95 Points
Interesting, very interesting. The colour, the freshness of the aromas and flavours, the fi nely sculpted tannins and the overall harmony suggest 13.5% alcohol, not 14.5%. All this conjecture is, of course, irrelevant: it is the outcome that matters here a distillation of elegance.
2014 CHARDONNAY - 95 Points
Hand-picked, chilled and whole bunch-pressed, cloudy juice to 50% new French barriques for fermentation and 9 months maturation. This is more about complexity than single-minded energy, and suggests some accidental mlf may have formed a part of the blend assembled at the end of maturation. It is rich with cashew, fig and white peach fruit seamlessly flowing through the palate.
2014 'FILIUS' CHARDONNAY - 94 Points
The entry point for Vasse Felix, hand-picked, chilled and whole bunch-pressed, cloudy juice to 21% new French barriques for wild fermentation and maturation for 9 months. Throws down the gauntlet with its mouthwatering energy and power. Its acidity guarantees it will thrive in bottle, but there is a strong argument to say it is as ready as it will ever be right now.
2015 SAUVIGNON BLANC SEMILLON - 94 Points
57/43%. The undergrowth of herb, grass and capsicum to the canopy of gently tropical fruits produces a complex wine, delicately pointing to the 20% fermented in new French oak and matured there for 14 weeks.
2013 SHIRAZ - 94 Points
Let no one doubt the potential of this wine, but I was slightly surprised that the tannins weren't polished a little more? This has a slightly savoury shroud to its flavours. Or did I jump before I looked, for there is also a pepper/licorice/earth component that is very attractive.
2015 CLASSIC DRY WHITE - 93 Points
One of these days Vasse Felix may put a foot wrong, but the odds against it are prohibitive. The harmony and seamless fusion of snow pea, Meyer lemon, passionfruit and built-in acidity are all precisely proportioned. Drink now or in 5 years: your choice. Semillon leads (62%), with 35% sauvignon blanc and 3% chardonnay.
2014 CLASSIC DRY RED - 92 Points
Strikes that lovely balance between serious complexity and fruit-filled sunshine. Its red fruits flirt with black, but are only teasing; it plays the same game with oak and tannins. Great value..