31 August 2018 | Vasse Felix
Three Vasse Felix Wines Recognised in Langton's Classification VII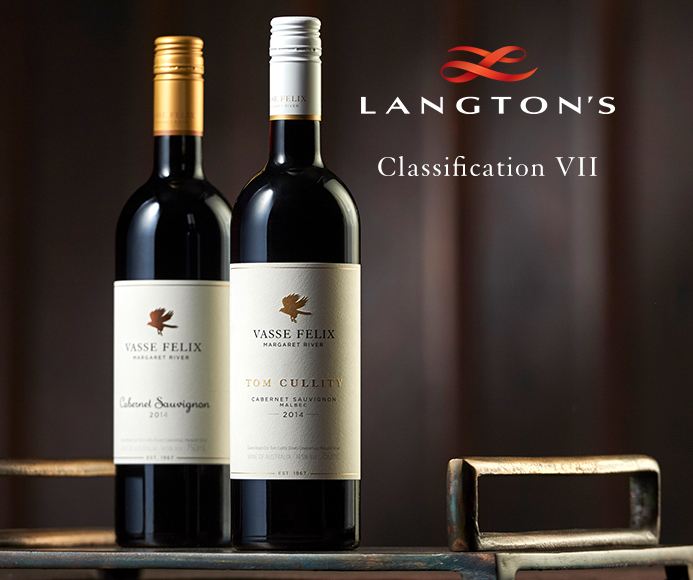 Langton's Classification of Australian wine is the paramount form guide to Australia's finest wines. Entry into the Classification is based on a wine's reputation. Compiled since 1990 and released at approximately four-year intervals, the Classification tracks the leading wines, and documents the dramatic growth and increasing maturity of the Australian fine wine scene over the years.
The latest Classification - VII includes only 136 Australian wines, and of Western Australia's 12 Classified wines, 10 are from Margaret River - three of which are Vasse Felix wines.
The TOM CULLITY was awarded an 'Outstanding' classification while both the Heytesbury Chardonnay (new to the Classification) and the Vasse Felix Cabernet Sauvignon received an 'Excellent' classification.
Classification Tier Descriptions
Exceptional
The most highly prized of all Australian fine wines. Representing generations of effort and character of place.
Outstanding
The best of Australian winemaking practices, vineyard provenance and regional voice.
Excellent
Australian wines of consistent merit. Steadfast, popular and expressive.
Tom Cullity Cabernet Sauvignon Malbec - Outstanding
"Sourced from the original vines planted in 1967 by Doctor Tom Cullity, the Tom Cullity Cabernet Sauvignon Malbec represents a multi-generational journey of innovation based on trial and error. Based on Houghton clone cabernet sauvignon and malbec, refined vinification techniques and maturation for 18 months in French oak, this wine validates and continues the Heytesbury narrative. Vibrant blackcurrant and herb garden aromas, fine-grained tannins, sous-bois (forrest floor) notes, generous concentration and integrated new oak mark the style."
Heytesbury Chardonnay - Excellent
"The glorious and expressive Vasse Felix Heytesbury Chardonnay is made up of individual sections of the Gin Gin clone. It evokes an exquisite balance between vineyards, emotional sensibility and technical brilliance. Batch vinification, bâttonage and maturation for nine months in around 60% (barely detectable) new and seasoned French oak results in a benchmark style with superb grapefruit and flinty aromatics, al dente textures and creamy complexity."

Cabernet Sauvignon - Excellent
"The historic, estate-grown Vasse Felix Cabernet Sauvignon is the bellwether champion of the Margaret River region. Vasse Felix made the first cabernet sauvignon in Margaret River in 1972, and this wine has been made every year since. Comprised of cabernet sauvignon (88%) based primarily on Houghton clone material, this blend also often includes merlot, petit verdot or cabernet franc. Traditionally vinified and matured in new (40-55%) and seasoned French barriques for 16 to 18 months, it is an intensely fragrant style with blackcurrant, cedar and herb garden aromas, generous flavours and fine-grained tannins."