26 November 2016 | Vasse Felix
HALLIDAY ON THE PAST, PRESENT & FUTURE OF VASSE FELIX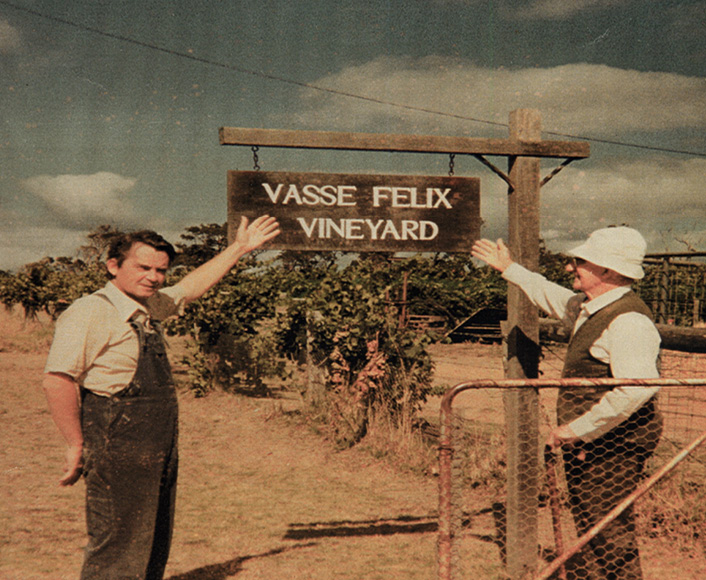 James Halliday muses on the past, present and future of Vasse Felix including his review of the yet to be released 2013 Tom Cullity.
AUSSIE WINE'S SOUTHERN STAR - Vasse Felix is among equals in the wine world, James Halliday explains why.
"Perth cardiologist Dr Tom Cullity was first out of the blocks in Margaret River when he established Vasse Felix in 1967, initially planting cabernet sauvignon and malbec, and making its first commercial quantity of wine in 1972. Today there are 165 wineries in what is one of Australia's most highly regarded regions.
Indeed, if you simply look at cabernet sauvignon (and its associated varieties of merlot, malbec, cabernet franc and petit verdot) it stands alone as the foremost producer of such styles.
Vasse Felix is first among equals, its 150,000-case production with a logical four-tier structure, most of the volume coming from the Classic Dry White and Classic Dry Red, then Filius, next varietal, and two icon wines at the top.
Paul Holmes a Court, involved since the family purchased Vasse Felix in 1987, became the sole owner in 2008. Virginia Willcock became chief winemaker in 2006 and has been central to the increasing quality of the wines, working closely with Paul. Its two icon wines were first made in 1995, named Heytesbury after the Holmes a Court family company. One was (and is) a chardonnay of sublime quality, the other a cabernet-dominant blend, until now simply called Heytesbury.
It is the latter wine that has been the focus of attention in recent years. The first wine made by Cullity was a cabernet malbec, then over the decades the emphasis changed to a Bordeaux blend of multiple varieties. But since 2008, largely elbowing petit verdot out of the way, malbec has made a progressive comeback.
So when the 2013 is released next May, it will be a very different wine. Called Tom Cullity, the front label will also read "cabernet sauvignon malbec". This is not simply a rebadged Heytesbury:
30 per cent less has been made, and the malbec component has increased to 20 per cent. It makes its statement effortlessly, leaving Tom content."
2013 Tom Cullity - 98 Points
Wild fermented, 28-35 days on skins; matured in French oak (61% new) for 18 months. Slightly light colour; gloriously fragrant bouquet; intense cassis-accentd palate. 76% cabernet sauvignon, 20% malbec, 4% petit verdot; exceptional texture, length and aftertaste.
2015 Heytesbury Chardonnay - 97 Points
One of the icons of Margaret River a chardonnay that has had spectacular success in shows over the past 5+ years. The mouthfeel and balance are flawless, supple yet focused, all the ingredients - fruit, oak, acidity - in perfect harmony.
Included in James Halliday's Top 100 Wines for The Weekend Australian Magazine.
2015 Vasse Felix Chardonnay - 96 Points
From the premier Wilyabrup vineyards; barrel fermented, matured in french oak (42% new) for 9 months. The bouquet is still developing but the palate gurantees a medium to long-term future. Exceptional length and intensity; pear, white peach and grapefruit make light work of the oak. Restrained like a lion on a leash.