19 October 2018 | Vasse Felix
Vasse Felix Restaurant Awarded Two Hats in the 2019 Australian Good Food Guide Awards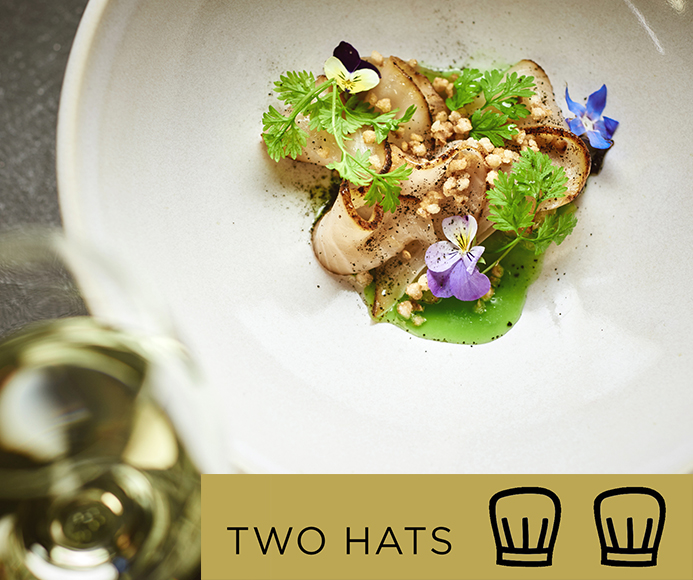 We were thrilled to again receive Two Hats at the 2019 Australian Good Food Guide Awards in Melbourne this October. The Vasse Felix Restaurant was one of only four WA Restaurants, all from the Margaret River Region, to receive this prestigious accolade.
This is the second year in a row that our Restaurant has received Two Hats since this rating system was extended to the West Coast two years ago. It is a great achievement for our Restaurant team who work hard to consistently showcase the best regional produce to complement our Wine Collection.
"A Margaret River founding winery, still pushing boundaries from vine to plate... Service leads the pack in the region, the dining room is warm and stylish, hewn from wood and stone. But the real draw here is still the meeting of culinary and wine talent." 16/20, Two Hats, Australian Good Food Guide 2019
This is one of a few glowing reviews the Restaurant has received recently, the latest of which was from Max Veenhuyzen in Gourmet Traveller who wrote, "The service remains polished, the dining world-class, and Carr's successor, Brendan Pratt (The Fat Duck, The Ledbury), is a young go-getter who brings both humility and serious kitchen experience to the role. After a year in the hot seat, Pratt has made the menu his own. Grilled marron is paired with bonito cream and crunchy farro, puréed corn with mushroom XO sauce demonstrates respect for vegetarians, and bigoli with hazelnut, pecorino and shavings of truffle exemplifies the kitchen's broad reach."
This is in addition to our recent success in the WA Good Food Guide Awards, where Vasse Felix was named #7 of the Top 50 WA Restaurants. A stellar month for Vasse Felix and the Margaret River dining scene!
More information on the Good Food Guide Awards here.
Pictured: Kingfish, cucumber, shallot, endive.