20 May 2017 | Vasse Felix
A COLOSSAL CELEBRATION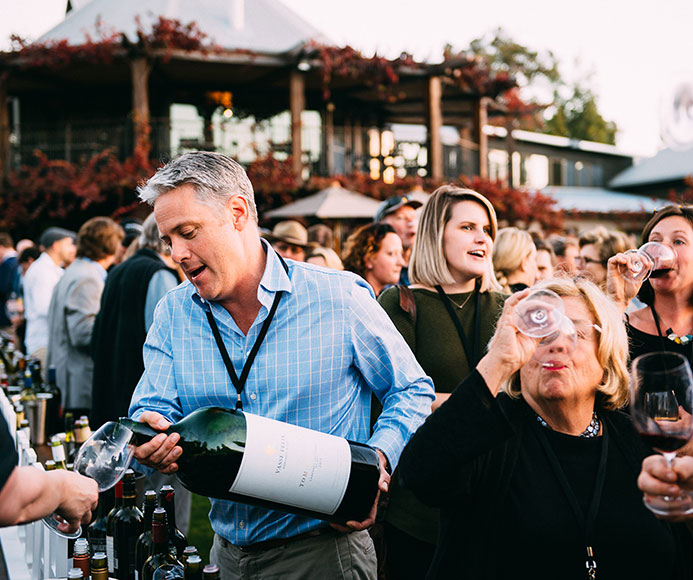 Vasse Felix hosted over 350 wine producers of Margaret River and local friends of our industry at the Estate on Friday 5 May for A Colossal Celebration - 50 years of Vasse Felix and Margaret River wine.
Each guest was asked to bring their favorite bottle of Margaret River wine from the past 50 years to share as part of a 'Colossal' Tasting Table. Highlights from the tasting table included a 1973 & 1975 Mosswood Cabernet, a 1978 Vasse Felix Cabernet, and an Imperial to unveil the new vintage of 2013 TOM CULLITY.
Guests were greeted with a glass of Vasse Felix Blanc de Blancs on arrival and the musical talents of accoustic guitarist Daniel White. They then headed over to the Colossal Tasting Table at 3pm to embark on a wine tasting adventure of their own making – choosing from a range of over 300 Margaret River wines.
During the afternoon, Paul Holmes à Court hosted a discussion panel featuring Andrew Caillard MW of Pinnacle Drinks, Denis Horgan from Leeuwin Estate, Nic Peterkin of L.A.S Vino, Robert Hill-Smith from Yalumba, and Vasse Felix's Chief Winemaker Virginia Willcock. The panel discussion centered around 'Imagining 100' – what the wine industry in Margaret River will look like in 2067 (the 100th anniversary of the region). The panel had a wonderfully engaging and interesting discussion about Margaret River wine and its position on the world stage.
Following the panel, the event kicked into party mode with local band Howling Onshore entertaining guests while the Settlers Tavern and Vasse Felix hospitality teams filled bellies with delicious food and wine.
Margaret River Elements helped to capture the milestone event – check out some of our favourite snaps below!