5 June 2018 | Vasse Felix
2018 ICON COLLECTORS TASTING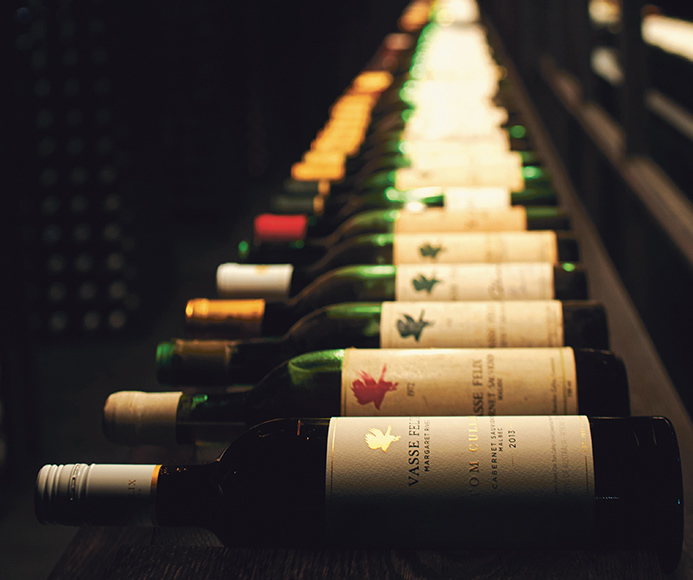 We were thrilled to host a number of long-term Icon Collectors from the Alumni Club at the Estate earlier this month, for an intimate tasting of some key back vintage Cabernets from the past 30 years.
Welcomed by Paul Holmes à Court, Chief Winemaker Virginia Willcock and Estate Sommelier Evan Gill, the morning commenced with a tour of our new museum space The Vault.
The tasting was held in the Art Gallery, where Virginia guided the guests through a selection of Vasse Felix museum wines, including a ten year vertical of Vasse Felix Cabernet Sauvignon (2000 - 2009) and finishing a comparison of the 2014 Vasse Felix Cabernet Sauvignon and newly released 2014 TOM CULLITY.
Standouts from the impressive lineup included the savoury 1998 Heytesbury, the restrained yet elegant 2004 Cabernet Sauvignon, and the precise, delicate 2014 TOM CULLITY.
Tasting notes for the event are listed below.
Vasse Felix museum wines are stored in The Vault, to view them yourself, please visit the Estate or book 'The Cellar Experience' tour here.
1998 HEYTESBURY
72% Cabernet Sauvignon, 24% Shiraz, 3% Malbec, 1% Merlot
Late summer rains dashed many hopes and un-netted vineyards were dive bombed by squadrons of silvereyes. It turned out to be quite a difficult vintage. Waiting out the unseasonable rains before picking saw good batches of fruit come in. Some exceptional wines were made - especially Cabernet.
Winestate Magazine, 5 Stars

2000 CABERNET SAUVIGNON
86% Cabernet Sauvignon, 5% Shiraz, 5% Merlot, 2% Cabernet Franc, 2% Malbec
The 2000 vintage in Margaret River again showed its true colours for consistency, with a few potential damaging rains from remnants of tropical cyclones in the North of Western Australia. The 2000 Cabernet Sauvignon fruit was sourced from several vineyards in the Margaret River Region. The warmer northern sites provide rich berry fruit characters and the southern areas provide fruit showing mint, eucalyptus and leafy notes.
2002 Qantas Wine Show of WA - Gold
2003 Cusine Magazine (NZ), Best Australian Red Wine

2001 CABERNET SAUVIGNON
90% Cabernet Sauvignon, 7% Malbec, 3% Merlot
A warm year in Margaret River in 2001 ripened the Cabernet Sauvignon earlier than normal with good sugar levels and lower acidities. The blend, being from the two oldest and unirrigated vineyards respectively, both averaging 36 years old make for a deep, rich and complex Cabernet Sauvignon with notable power and concentration. The wine was fermented in rotary fermenters before being pressed off skins and run to new French oak barriques to complete fermentation. The wines were subsequently matured for 18 months in barrel.
2003 Qantas Wine Show of WA - Gold; Best Cabernet Sauvignon;
Best Red Wine; Best Wine in Show
2002 CABERNET SAUVIGNON
88% Cabernet Sauvignon, 7% Malbec, 5% Merlot
2002 was our coolest vintage since 1993, resulting in most varieties being picked approximately 3 weeks later than normal. As a result the wines have lower alcohol levels, a welcome trend given the blockbuster levels we have experienced in recent vintages. The acidity levels were also balanced naturally and did not require any adjustment. The vineyards in the northern part of Margaret River delivered the best intense and ripe Cabernet Sauvignon, making up the major parcel of the wine. At the Willyabrup original vineyard site, the Cabernet Sauvignon showed
more leafiness and mint characteristics. A small portion of Merlot and Malbec were blended in increased volumes to soften the palate, elivering a wine with generous cassis and berry fruit flavours.
Winestate Annual - 4 stars; Best of the New Releases
2003 CABERNET SAUVIGNON
90% Cabernet Sauvignon, 4% Malbec, 3% Merlot, 3% Shiraz
A warm, dry spring and warm to hot conditions leading up to vintage in a low yielding year lead to an extremly early and compressed vintage. Great colours and high sugar ripeness and lower acidities we a feature of the 2003 vintage.
The small portion of Merlot and Malbec help soften the tannin profile of the palate and give a perfumed floral lift to the nose.
Margaret River Wine Show - Gold
Winestate Magazine Annual, 4 stars; Best of Style
2004 CABERNET SAUVIGNON
91% Cabernet Sauvignon, 3% Shiraz, 4% Malbec, 2% Merlot
2004 vintage in Margaret River was near perfect for reds in terms of quality and yield. A cool spring/summer promoted slow growth and highly concentrated fruit flavours. A long warm Autumn ensured ideal sugar/acid/alcohol ratios. Irrigation management in the vineyard was minimal. The Merlot grapes benefited from a heat wave that struck in late March, while the Cabernet enjoyed the long mild slowripening conditions throughout April to obtain optimal ripeness. Vinification took place in chilled rotary fermenters and gently pressed to refrigerated stainless steel tanks for completion of fermentation. The wine was transferred to older French oak barriques for maturation before final blending in November 2005. Winestate Magazine - 5 stars; Best Wines of 2007
2005 CABERNET SAUVIGNON
86% Cabernet Sauvignon, 6% Merlot, 5% Shiraz, 3% Malbec
The 2005 vintage was very distinct with a warm Spring with adequate ground moisture setting the vines up well during the early growing season and a cool, mild summer period in early February, allowing good vigour and vegetative growth without stress. The season also experienced some humidity with several rainfall periods providing plenty of water to the vines.
James Halliday Wine Companion - 94 points
Campbell Mattinson - 94 points
2006 CABERNET SAUVIGNON
87% Cabernet Sauvignon, 8% Shiraz, 5% Malbec
2006 was the coolest vintage Margaret River's history. Ripening of all varieties occurred up to three weeks later than previous years and a great deal of work was required in the form of leaf plucking, green harvesting and fruit thinning to ensure ideal, physiological ripeness was achieved. As a result, the 2006 Cabernet Sauvignon has classic died
herbal notes typical of Cabernet from Margaret River. The Malbec and Shiraz parcels provide a more lifted berry character, combining perfectly with the savoury, herbaceous notes typical of 2006 Cabernet. The Cabernet Sauvignon batches were fermented separately and matured in new and older French oak barriques, before batch selection and final blending, which included small amounts of Shiraz and Malbec to add further complexity.
Winestate Magazine - 4 stars; Best Wines of 2009
2007 CABERNET SAUVIGNON
88% Cabernet Sauvignon, 7% Malbec, 5% Merlot
A dry, warm spring then summer created a compact and action-packed vintage. Ripening of all varieties occurred up to two weeks earlier than previous years recorded and once the fruit began rolling in it didn't stop. There was no distinguishable break between white and red varieties. Each variety displayed a depth of aroma and density of palate.
Individual vineyard sections were fermented in parcels then matured in French Oak barriques before batch selection and final blending. The tannin influence was controlled through traditional oxidative handling, creating a deeply coloured wine with great structure and length.
Perth Royal Wine Show - Gold; Best Cabernet Sauvignon
James Halliday Wine Companion - 95points; Best of the Best by Variety
Ray Jordan The West Australian - Top 100 Reds; Best of the Best
2008 CABERNET SAUVIGNON
92% Cabernet Sauvignon, 8% Malbec
A variable Spring and hotter than usual Summer was fortunately followed by cooling conditions in early Autumn. Beautiful sunny days, but cool nights allowed for ideal, even physiological ripening. Individual vineyard sections were fermented in parcels then matured in French Oak barriques before batch selection and final blending. The tannin influence was controlled through traditional oxidative handling, creating a deeply coloured wine with great structure and length.
Langtons Classification of Australian Wine - Distinguished
James Halliday Wine Companion - 95points; Best of the Best by Variety
2009 CABERNET SAUVIGNON
88% Cabernet Sauvignon, 11% Malbec, 1% Merlot
Two cold springs in 2007 and 2008 contributed to low yields in 2009. Summer was moderate and fine conditions remained throughout harvest. These conditions produced superbly ripe and balanced fruit displaying all the hallmarks of a fine vintage. Individual vineyard sections were fermented in parcels with many left on skins for up to 30 days. The
tannin influence is controlled through traditional oxidative handling, creating a deeply coloured wine with great structure and length.
Australian Finacial Review, Tim White - 95 points
Gourmet Traveller Wine, Huon Hooke - 5 Stars; 95 Points
2014 CABERNET SAUVIGNON
Deep maroon with a bright ruby red hue. The nose heralds a pure, refreshing and sophisticated wine. Elevated regional fragrance of cassis, licorice, bay leaf and violets with savoury mushroom, loamy earth, dark chocolate and dry twiggy details combining to form an alluring Cabernet bouquet. The palate is compact and concentrated in flavour but well resolved in structure with a stunning silky texture at such a young age. There is a seemingly bottomless
depth of blue and purple berries, nuances of herb and licorice, cedar and light wood smoke, with a gentle mouth-coating tannin persisting.
90% Cabernet Sauvignon, 8% Malbec, 1% Petit Verdot, 1% Merlot
This wine expresses the distinct regional profile of Margaret River Cabernet Sauvignon and the site characters it takes from the Vasse Felix vineyards, with a focus on Wilyabrup. It was the first red wine produced in Margaret River and has been made every year since 1972. Cabernet is a robust variety ideally suited to Margaret River's climate and deep, well drained soils. Cabernet parcels grown in the coastal, northern reaches of Margaret River on ancient, well drained gravel loam soils produce wines of great varietal purity and character. These wonderful, often tiny, vineyard sections are individually fermented using indigenous yeasts, with many experiencing maceration periods of up to 30 days. Natural fermentation and extended maceration are coupled with traditional oxidative handling to clearly define the intricate personality of each vineyard site before blending. Malbec complements and enhances the Cabernet profile.
James Halliday Wine Companion - 96 points
James Suckling - 95 points
2014 TOM CULLITY
Light maroon with a purple tinge. A very pointed and pristine perfume with immense complexity. Lively fruit from this vintage is preserved precisely. The oak and savoury complexity is intricately interwoven yet the immense power of the fruit, while delicate, is brimming with character. Notes of red currant, cranberry jam and raspberry pips give way to agar, gravel, a hint of peppermint tree, mushroom and bark. The palate is vibrant with mouth-watering cranberry freshness and while light, is juicy, precise and balanced with remarkable fine grained tannins. Long cassis and cherry pip flavoured tannins create a dry and fine finish. A significant Cabernet of uniquely delicate proportions.
80% Cabernet Sauvignon, 16% Malbec, 4% Petit Verdot
The TOM CULLITY descends from Dr Tom Cullity's original vines and represents the pinnacle of Vasse Felix. Reasonable yields were obtained despite a handful of blocks being exposed to heavy storms in spring reducing their cropping potential, but overall quality is excellent. All blocks were destemmed only, without crushing and then allowed to ferment naturally. The Petit Verdot, a small section of Malbec and small portion of Cabernet (making up 24%) were open fermented, hand plunged and pressed dry. The remaining 76% of the Cabernet and Malbec was static- fermented, gently pumped over through a splash tub and then left on skins for up to 34 days; allowing the wine to stabilise and become structurally sound in such a brilliant year for tannin ripeness. The small sections were basket pressed to fine French oak and matured for 18 months with minimal racking.
Ray Jordan, The West Australia - 99 points
James Suckling - 98 pts