4 June 2017 |
Vasse Felix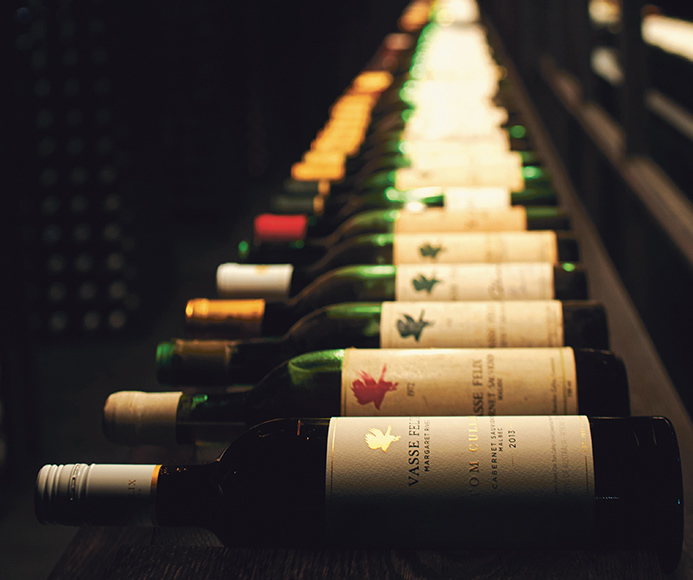 We were thrilled to host a few long-term Icon Collectors from the Alumni Club at the Estate earlier this month, for an intimate tasting of some key back vintage Cabernets from the past 30 years.
Welcomed by Paul Holmes à Court, Chief Winemaker Virginia Willcock and Estate Sommelier Evan Gill, the morning commenced with a tour (led by Paul no less) of our new museum space The Vault, with a glass of Blanc de Blancs in hand.
The tasting was then held in the Gallery, where Virginia guided the Alumni guests through a selection of 6 Vasse Felix museum wines. Paul also entertained our loyal collectors with stories to complement the vintages and outline the evolution of the Vasse Felix wine style
Standouts of the tasting included the 1985 Cabernet Sauvignon, the rich 1996 Heytesbury, the incredibly balanced but powerful 2005 Heytesbury and the final wine - our inaugural 2013 TOM CULLITY – was an epic finish to the tasting.
Some guests stayed on for a 5 course Tasting Menu with matching wines at the Chefs Table, and were treated to a side-by-side comparison of the 2006 Cabernet Sauvignon and the 2013 TOM CULLITY.
All round, there were some very satisfied Icon Collectors! Tasting notes for the event are listed below.
Vasse Felix museum wines are stored in The Vault, to view them yourself, please visit the Estate or book 'The Cellar Experience' tour here.

ICON COLLECTORS TASTING NOTES (Original Versions)

1985 Cabernet Sauvignon
Mint, herbal, mulberry and cigar box aromas - quite attractive. The middle palate shows the Vasse Felix trademark of sweetness, elegance and balance. Tannins are soft but in moderate levels giving the wine a long finish.
92% Cabernet Sauvignon, 8% Malbec
A relatively cool ripening season, the grapes were picked much later than usual. The grapes sourced for this wine also included a portion of fruit from a vineyard south of Margaret River, giving the wine a much more leafy character than previous Cabernets from Vasse Felix.
• Best Red Wine, London Wine Fair

1996 Heytesbury
A very black and deep velvety wine in the glass with sweet coffee, cassis and spicy plums evident on the nose. The palate is velvety ~ almost viscous with intense chocolate, mulberry fruit and vanilla/clove oak with an amazing length of flavour and ripe tannin structure.
87% Cabernet Sauvignon, 8% Merlot, 5% Cabernet Franc
The 1996 vintage was a year for high quality crops, especially in the reds, bud burst and flowering flourished in ideal conditions. The judge at the 1997 WA SGIO Wine Awards said, " The Vasse Felix Heytesbury was the epitome of the new direction of red winemaking. It had none of the excesses in oak, tannin extraction and alcohol that characterise a big number of Australian red wines. It was complete and refined."
• Best Red Blend, WA SGIO Wine Awards 1997
• Best Wine of the Show, Sheraton Wine Awards 1998
• Gold and Best Wine of the Show, Perth Royal Wine Show 1998
2005 Heytesbury
The 2005 Heytesbury is a beautiful, deep dark plum colour. The aroma is fragrant, with lifted blackcurrant and fresh subtle peppermint leaf with blueberries, violets, coconut, cumin seeds and thyme which meld into the background with rich oak perfumes. The palate is bright with fresh acidity and a slight creaminess to the mid-palate. The tannins are firm and the wine finishes dry with pretty flavours of violets, dark berries and a hint of mandarin.
95% Cabernet Sauvignon, 5% Shiraz
2005 was an outstanding year in Margaret River. The growing season was drier than usual and the days were warm with cool nights – ideal for producing high quality red wines. The brief given when making the Heytesbury, in the words of Vasse Felix and Margaret River's founding vigneron, Dr Tom Cullity – "to make the best possible wine." Balance, elegance, complexity and restrained power are the hallmarks of Heytesbury and are the direct result of an uncompromising approach to quality.
• Gold, Margaret River Wine Show 2007
• Australian Wine Companion, 95 pts James Halliday
• Wine Enthusiast, 91 pts Editors Choice

2009 Heytesbury
Deep red with a pink/crimson hue. Deep, concentrated and packed full of blackcurrant and mulberry aromas, with fine layers of violets, lavendar, aniseed, tobacco leaf and graphite. A sensational structure that is comet-like in its profile. A ball of voluminous, sweet, dark fruit and intense tightlywound acidity with textural tannins punctuates the entry, and continues with a long, fine, tail brimming with tangy red berries, dried sage, cedar and ultra-fine tannins.
69% Cabernet Sauvignon, 16% Petit Verdot, 15% Malbec
Two cold springs in 2007 and 2008 contributed to low yields in 2009. Summer was moderate and fine conditions remained throughout harvest. These conditions produced superbly ripe and balanced fruit displaying all the hallmarks of a fine vintage. Heytesbury is a barrel selection from the finest parcels of Cabernet Sauvignon, Petit Verdot and Malbec from the 2009 Vintage. The Cabernet Sauvignon dominant blend includes portions of Malbec and Petit Verdot, which are distinctly perfumed, flavoured and structured. Both complement the restrained power of Cabernet Sauvignon. All batches were meticulously handled and given 18 months maturation in French oak barriques.
• Gold at Royal Melbourne Wine Show 2011, Qantas Wine Show of WA 2012 and Sydney Royal Wine Show 2012
• The Weekend West, 97 pts Ray Jordan

2012 Heytesbury
Bright maroon with a purple hue. Fresh fragrant black, red and blue berries, floral violet notes, cherry pip and pie crust meld with the earthy savoury tones of gravel stones, damp forest and a cedar steam nuance. Luscious dark berries stolen from the forest explode with a taught but voluptuous sensation. The fruit is sweet and fine but the structure is long and powerful. It has super fine tannins, fresh acid and a delicious and unique memory remaining.
77% Cabernet Sauvignon, 16% Malbec, 7% Petit Verdot
2012 was not just another exceptional season, but also a year of significant evolution for red winemaking at Vasse Felix, with the adoption of 100% natural yeast fermentation in our top red wines. Good finishing winter rains with moderate spring conditions resulted in excellent canopy health. The summer ripening period was warm and dry with some above average heat in late January prompting an early start to harvest. The weather tempered in early February and the fruit ripening slowed to a more typical pattern resulting in a long and steady vintage. Classic in style, this barrel selection of the best Cabernet Sauvignon, Malbec and Petit Verdot from the vintage takes Heytesbury to a whole new level.
• Top 100 Award, 31st Edition Australian Wine Vintages (The Gold Book), Rob Geddes MW
• Double Gold, 6 Nations Wine Challenge

2013 TOM CULLITY
Deep maroon with a brick and purple tint. Savoury to start with meaty mushroom, nori, salty sea breeze, graphite and spicy cedar notes. Opens beautifully with cherry pip, cassis, Christmas cake, orange rind, pot pourri and Australian forest floor. A refined, soft, elegant and almost creamy Cabernet style with sublime tannin and mouthfeel. The flavour is full, yet elevated and carries cherry, cassis, hints of cinotto, cedar and chocolate. It finishes juicy, while fine and dry.
76% Cabernet Sauvignon, 20% Malbec, 4% Petit Verdot
Vasse Felix, Margaret River's founding wine estate, was established by Dr Thomas Brendan Cullity in 1967. Among his first plantings were Cabernet Sauvignon and Malbec vines, from which he produced the estate's first red wine. The TOM CULLITY descends from these original vines and represents the pinnacle of Vasse Felix. The inaugural release was in May 2017, coinciding with Vasse Felix's 50th Anniversary. All fruit was grown in Vasse Felix's Home Vineyard. Fruit parcels were picked in small blocks and fermented with 100% wild yeasts. 52% was static fermented and macerated on skins for more than 20 days. 48% was open fermented and macerated for 10-15 days on skins. The wine was fined with egg whites and racked before minimal filtration to bottle.
• James Suckling Top 100 Australian Wines, 99 pts Nick Stock
• The Weekend Australian, 98 pts James Halliday
• The West Australian, 98 pts Ray Jordan