12 December 2017 |
Vasse Felix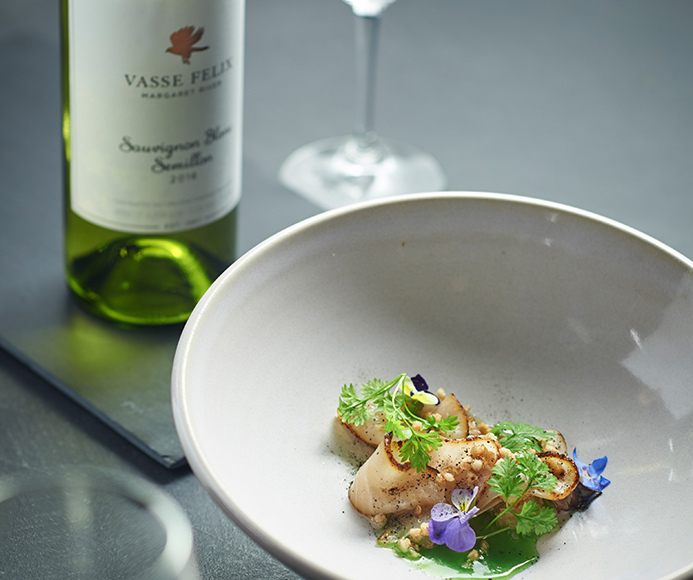 Chef Brendan Pratt's favourite Summer food and wine pairing, including the detailed recipe!
"With the summer fast-approaching, I'm all about pairing fresh seafood with a refreshing glass of Sauvignon Blanc Semillon. I've created a dish using kingfish, a textured, adaptable fish with moderate flavour intensity. We source ours from a sustainable ocean farm in Geraldton." Brendan Pratt, Vasse Felix Head Chef
KINGFISH & LEEK ASH
500g kingfish fillet, trimmed
1 leek
500g water
200g salt
200g honey
40g juniper berries
METHOD KINGFISH
Bring the water, honey, juniper and salt to the boil to create a brine.
Remove from the heat and chill. Add the kingfish to the cold brine, leave for 45 minutes. Remove from the brine and gently rinse in cool water, pat dry and set aside.
METHOD LEEK ASH
Place the leek on an open flame - this could be done on the char grill of your BBQ, or on a wire rack on top of a gas flame on your stove top. As it blackens, turn it gradually as to burn all sides of the leek.
Scrape off the charred burnt skin of the leek and crush into a powder with a mortar and pestle.
Lay some cling film onto the bench and sprinkle it with some the leek ash, place the kingfish fillet on top and continue to sprinkle with ash until kingfish is coated.
Wrap tightly in cling film and place into the freezer for approximately 1 hour or until firm. Then slice it lengthways 2-3mm thick, in long, even slices to serve.
SHALLOT MARMALADE
150g diced shallot
25g butter
500ml water
60ml white wine vinegar
100g caster sugar
½ teaspoon sea salt
1 cucumber
Chervil and edible flowers to garnish
METHOD
Add diced shallot to a pot, combine all ingredients except cucumber. Place onto a medium heat and bring to a simmer, turn to a low heat and keep cooking until all the liquid has reduced and you are left with a sticky marmalade consistency.
Place some baking paper onto a baking tray and spread the marmalade out on the tray to cool.
Once cool, fold in the diced cucumber.
PUFFED BUCKWHEAT
½ cup buckwheat
1L canola oil
½ tsp salt
METHOD
Bring 1 cup of water to boil and add your buckwheat.
Simmer until tender, approximately 15-20 minutes. Remove and cool.
Place on tray with baking paper into oven at 70C for 2-3 hrs or until dried out.
Heat the oil in a small pan until it reaches 190C.
Gently add the buckwheat and fry for approximately 10-20 seconds until puffed and crisp. Remove and drain on paper towel.
Season with salt.
BRAISED ENDIVE
1 red endive
500ml chicken stock 100g butter
1 sprig thyme
2 cloves garlic
METHOD
Half the endive and wash in cold water. Bring the stock to the simmer and add the butter, thyme and garlic.
Place the endive in and simmer on low for approximately 15 minutes or until tender. Remove the endive and cool.
TO SERVE Place one teaspoon of marmalade onto the plate at 2 o'Clock, and gently arrange 3 slices of kingfish onto the plate, making them look like ribbons and 2 leaves of endive. Sprinkle a teaspoon of puffed buckwheat over the kingfish. Garnish with fresh chervil, edible flowers (I like to use borage or sorrel flowers) and a little peppery olive oil.