25 September 2017 | Vasse Felix
WRAPPING UP ANOTHER SUCCESSFUL PRUNING SEASON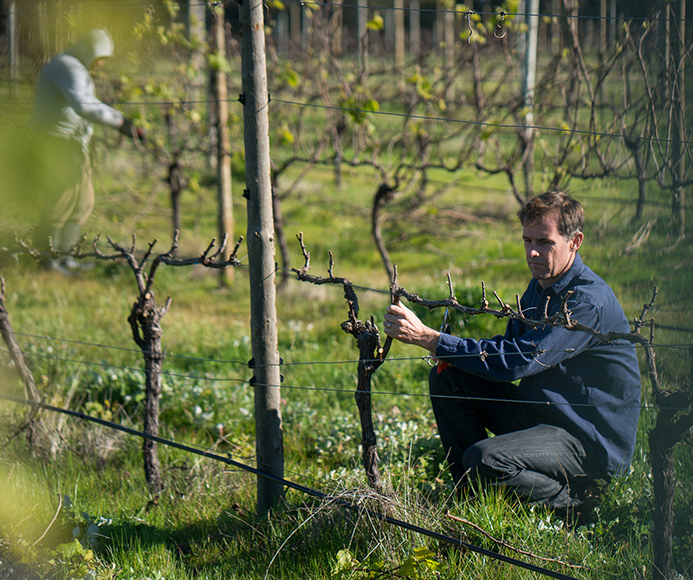 Our viticulturists are breathing a sigh of relief, having completed 10 weeks of pruning – approximately 9,000 hours between all team members. The pruning season, which generally runs from July through to September, is a labour-intensive process where staff work with every single vine in each of our four vineyards.
For those interested in the finer details of viticulture management, our Chief Viticulturist Bart Molony has put together a summary of the two pruning methods utilised at Vasse Felix.
What is Pruning?
Pruning is the removal of shoots and wood from the vine and is carried out during winter when the vines are dormant. Pruning is the most labour intensive seasonal task and can make up 13% of a vineyard's total cost of operations. It can take anywhere from 30-90 seconds to fully prune a vine depending on the pruning style, age of the vine and the variety.
Why Prune?
We prune in order to regulate the number of shoots on a vine and strike a balance between vegetative growth and yield. Too much vegetative growth can make canopies more difficult to manage, increase disease pressure and reduce overall fruit quality. Pruning contributes to the overall sustainability of a vine, so it can achieve ideal quality and yields year in, year out.
Pruning Methods
Spur Pruning
Spur pruning is where a permanent cordon (horizontal branch) is set up and spurs of two or three nodes in length are evenly spaced along this cordon. The cordon typically ages and thickens with the trunk of the vine each year.
Spur pruned vines can be mechanically pre-pruned which greatly reduces the labour required to remove the prunings from the trellis. The positions of the spurs are usually pre-determined so it is a quicker process compared to cane pruning. However, as the cordons mature, they can be increasingly harder to manage, the spurs become larger and there is an increase in the number of water-shoots (non-fruitful shoots) produced each year.
Spur pruned vines typically produce smaller bunches and berries which are more intense in character. At Vasse Felix we have found that spur spacing of 10-15cm will result in ideal shoot and fruit densities.
We apply this method in our premium Chardonnay blocks as it tends to produce more reliable yields and more even shoot distribution. Spur pruning also improves the power and concentration of fruit flavours, particularly in the Gin Gin Chardonnay clone – a well-known Margaret River Chardonnay clone.
Cane Pruning
Cane pruning utilises the canes for fruit bearing wood, as opposed to using the spurs. Approximately two to four canes, originating from the crown of the trunk, are wrapped horizontally onto the cordon wires, while some 2-node spurs are left on the crown to guarantee fruitful canes for the following vintage.
Cane pruning is arguably more sustainable than spur pruning as there is no permanent cordon present, the yields and quality tend to be more consistent. However, it does requires a higher level of skill, experience and resources.
Cane pruned vines produce larger bunches and berries, resulting in softer and more elegant wines.
We use the cane pruning method to maintain our premium Cabernet Sauvignon sections, as these vines require light exposure and open canopies. Typically, Cabernet Sauvignon berries are very small; therefore a slight increase in size can provide better balance in the berry composition.
Factors to Consider
Target wine quality and style. This is determined by the potential of the site, which is heavily influenced by the soils and climate.
Target yield to achieve wine quality. We look at the history of fruitfulness and the quality to get a clear picture on the type and level of pruning we should be using.
Variety, age and fruitfulness of the block.
Size and location of the block.