4 April 2016 | Vasse Felix
The Cabernet Project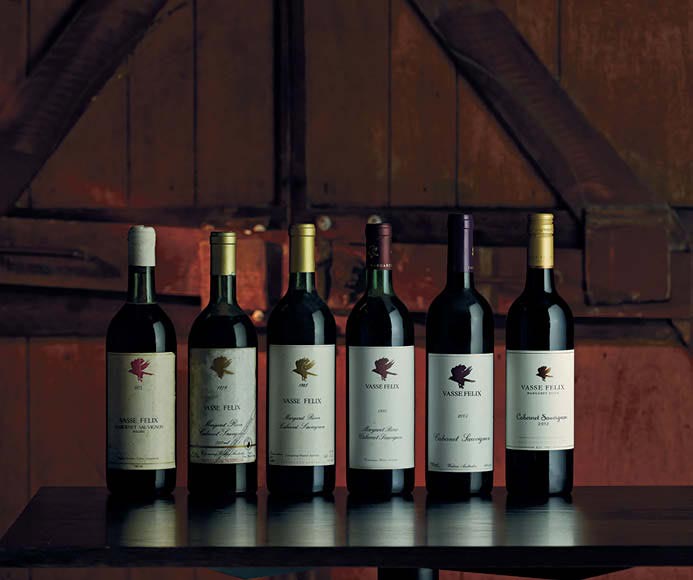 A decade-long project has been transforming Cabernet Sauvignon at Vasse Felix, with the final pieces coming together to finally reveal all.
There have been various chapters of The Cabernet Project at Vasse Felix since 1967. The most recent has aimed to evolve our three-member 'family' into a truly world-class suite of Cabernet Sauvignon. That is, a collection that can stand alongside that of the Great Wine Estates of other great Cabernet regions to demonstrate the extraordinary capabilities of Margaret River. On face value it may seem like a small difference in names and blends. It is so much more than that. The evolution behind the scenes to make the Tom Cullity, Cabernet Sauvignon and Filius Cabernet Sauvignon has touched every element of winemaking at Vasse Felix from vineyard to bottle. Cabernet Sauvignon has always been at the heart of Vasse Felix. The first plantings in 1967 were dominated by Cabernet vines and a Cabernet Malbec was one of the first finished and labelled wines made by Dr Tom Cullity at the Estate (1972 vintage). Every vintage since we have been evolving this wine, learning how to best express Margaret River Cabernet Sauvignon.
By the 40th anniversary of Vasse Felix it was clear that Margaret River was no one-hit-Cabernet-wonder region. It had proven its quality consistently over a short timeframe to the point that leading critics, like Jancis Robinson MW from the Oxford Companion of Wine include Margaret River among the few regions in the world that can grow Cabernet brilliantly. "Perhaps the most extraordinary aspect of Cabernet Sauvignon is its ability to produce a wine that is so recognisably Cabernet, even if remarkably few wine regions, considering its ubiquity, have so far proved reliable sources of seriously top-quality expressions of this potentially top-quality grape: Médoc, Pessac-Léognan, Napa, Sonoma, Santa Cruz Mountains, Washington State, Bolgheri, Coonawarra, Margaret River, and part of Penedès spring most readily to mind."
Since early days Vasse Felix winemakers had explored various schools of thought around how to make the best red wine, based on experience and knowledge at the time. By the mid-2000s the standout quality of Cabernet Sauvignon from Tom's old blocks in our Home Vineyard had become unquestionable. In taking the reins of Vasse Felix, Paul Holmes à Court was ready to make some ambitious strides in support of Margaret River's future as a leading global wine region for Cabernet and Chardonnay. In 2006, at a time most Estates were downsizing, Paul was carefully searching for land to increase the Estate's viticultural footprint and the volume of ultra-premium Estate-grown fruit for our Premier and Icon Cabernets. Chief Viticulturist Bart Molony and his team have been on the ground making all of the viticulture developments happen.
"When growing grapes, we don't only look at taste and flavour as a measure of quality – we are working pragmatically with the relationship between the soils and environment and the vine. Practically, Cabernet is well-suited to Margaret River from a basic farming perspective," Bart explains. "How do I explain The Cabernet Project? Fundamentally, we needed more Cabernet in Wilyabrup. That was the main thing, and it needed to be Houghton clone like Tom's vines." "Ten years ago the Home Vineyard comprised of only Tom's block. Today the Vineyard is four times that size. We have vines that are 50 years old, 20-30 years old and 1-10 years old. We have been establishing new blocks at the same time as pulling less-suited varieties on prime country and replacing them with Cabernet. We have also been changing the pruning and canopy management programs to optimise the old blocks." "Getting vineyards established in Wilyabrup is very hard work. We're working with some of the toughest ancient gravel loam clay soils here, which just happen to be the best Cabernet soils. There's so much rock. Even trying to put posts in can be difficult, or trying to level the ground to get tractors across them – it's tough and very labour intensive. Some days we're putting 45 people to work. Everything has to click and work smoothly because all of the results are in the details."
Choosing clones and planting vines is one thing. The weather is the element that is always beyond control. Fortunately Margaret River has delivered a run of excellent seasons since 2007, ideal for biological viticulture. "We have always tried to let the grapes be expressive of where they are grown. We haven't wanted to interfere too much with synthetic fertilizers and pesticides – if you pick the right site then you shouldn't have to. It's been a slow road to establishing fruitful yields from the young vines in tough soils and with the elements. The reward comes when you see the yields slowly increase and the quality improve through our touches here and there," As for what comes next in the vineyards? "We're still moving on it – it's not over. The future is about fine-tuning. How we can further add value to our vineyard resources and our grape resources and how we can continue sustainable production for the long-term. The fact that practical farming can make a world-class wine is a mere bonus," Bart finishes.
In the winery the Cabernet program has been revolutionised under the leadership of Chief Winemaker Virginia Willcock and her team. "One of the reasons for me starting at Vasse Felix was to work with the oldest vines and heritage in Margaret River, a region so promising for Cabernet," Virginia says. "When Cabernet is great, it has aromatic perfumes unlike any other variety. It is full of fragrant red berry fruit, sometimes blackberry, floral notes, wonderful savoury, gravelly, earthy characters and light notes of winter herbs (sage, rosemary and thyme). The palate can be succulent and juicy on entry with a wonderful build of voluminous powdery tannin leaving the mouth dry but full of perfume. It has the ability to have elegance and finesse but with fruit power and tannin simply building to the finish." "Cabernet in Margaret River doesn't want to be pushed into a heavy place. It doesn't lose its power and strength, despite its elegance. Minimal inputs and judicious handling is the key."
Since 2007 boutique, small-batch handling through the entire winemaking process, a state-of-the-art static fermentation facility and the adoption of 100% Bordeaux barrels into the Cabernet program has accelerated wine quality at a rapid pace. "The first thing when I got to Vasse Felix from a winemaking perspective was to develop a specialised fermentation program for our red wines to isolate the individual sections of older vines and develop the promise of every section of vine in both a vineyard management and winemaking context." To achieve this all blocks of fruit are kept separate from harvest, through fermentation and maturation. At the end of maturation each parcel is graded and blended into the best wines working from the Icon wines through to the Premier and then Filius. Parcels of fruit are defined in the vineyards and vary in size. An example of a smaller block is 0.1 Ha of Malbec which turns into only a barrel or two of wine.
"We know this Malbec will be a blending component for our Cabernet, but we nurture it as if it could be a stand-alone wine," Virginia explained. "There was a breakthrough moment for our Cabernet in 2007 when on the tasting bench we realised it was the strength of Malbec and Petit Verdot, not Merlot, Cabernet Franc or even Shiraz that best complemented our Cabernet as blending components. Heytesbury then became a Cabernet Sauvignon, Petit Verdot and Malbec blend." "Over subsequent vintages Malbec began to shine over the Petit Verdot, to the point we recognised the Cabernet Sauvignon Malbec combination was ready to be something more."
"Paul always had an idea that one day Vasse Felix would make a wine in honour of Tom. The wine had to be the best, befitting of Tom's pioneering accomplishments for Margaret River. The magic of the original vines fermented naturally and the Cabernet Malbec combination made it clear that it was time for the next Cabernet era." When the Tom Cullity is released in May 2017 the Cabernet Malbec style will flow through the whole Vasse Felix family, from Icon to Premier and the new Filius Cabernet Sauvignon being released here.