1 December 2016 | Vasse Felix
FESTIVE FOOD & WINE PAIRING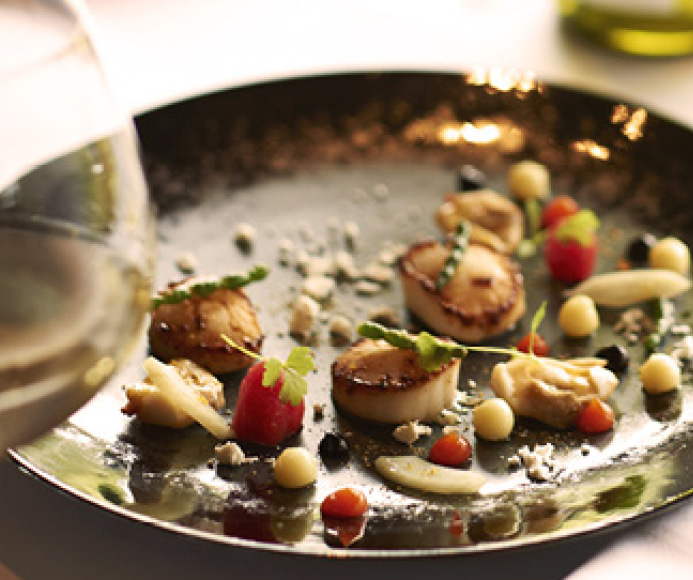 Vasse Felix's top food and wine picks for the festive season, including recipes from Executive Chef Aaron Carr.
Scallops are easy to prepare and great for entertaining. First, remove the abductor msucle then sear in a very hot pan, turning only once and allow to rest before serving. Dress with Sweet Ginger dressing and pair with Vasse Felix Sauvignon Blanc Semillon.
Sweet ginger dressing
Ingredients
½ cup tamari
2 teaspoons ginger – chopped
2 teaspoons fish sauce
1 stalk lemon grass – finely chopped
juice and zest of 2 limes
2 teaspoons palm sugar
salt and pepper
1 chilli chopped – no seeds
Method
1. Whisk together all ingredients and serve with lightly seared scallops.
Vasse Felix Executive Chef Aaron Carr's simple vegetarian gnocchi dish is versatile as a main or side. The grilled fig and vincotto makes this gnocchi dish light and punchy for Summer. Matched with the 2015 Chardonnay, the creamy flavours of the pumpkin and goats cheese are perfectly balanced by the wine's citrus power and hazlenut and wafer notes.
Pan-fried potato gnocchi with roasted pumpkin, pepitas, grilled figs & goats cheese
Ingredients (serves four)
2 large red potatoes
plain flour
4 figs (quartered & roasted)
1 butternut pumpkin (peeled, roughly diced & roasted)
100g pepitas
200g rocket leaves
120g goats cheese
fig vincottto
salt + pepper
1 tablespoon butter
sage leaves
Method
1. Place the potatoes in a large pot of cold water & bring to the boil, simmer gently until cooked. Remove from the water & place on a tea towel & allow to stand for 5 mins (if the potatoes seem a little moist you can place them in a slow oven for 5 mins to dry them out).
2. Remove skins from the potatoes & use a mouli to pass them into a large stainless steel bowl. Add the plain flour a little at a time to form a dough. Divide dough into 3 and roll each into long cigar shapes. Using a scraper cut into 3cm pieces. Place into a pot of boiling water & simmer until gnocchi floats to the top. Remove & place on a tray. Place the tray in the fridge to cool. Repeat the process until you have finished all the dough.
3. Place a heavy based fry pan on high heat with a little olive oil & sea salt, add the gnocchi & pumpkin & cook on a high heat stirring constantly until gnocchi is evenly browned. Add pepitas & rocket & toss for 2 mins. Remove gnocchi from the pan & place into a serving bowl. Place the pan back onto the heat & add the butter & sage leaves & cook until butter is nut brown. Spoon the butter & sage leaves over the gnocchi.
4. Place 4 pieces of fig & some goats cheese on top of the gnocchi, drizzle with the fig vincotto. Serve.
Shaved fennel and green bean salad with sprouting lentils and goats cheese
The real reward of making this salad comes from growing your own sprouting lentils! Simply blanch beans and toss with sprouting lentils and thinly sliced fennel. Top with a dressing of olive oil, lemon juice and sumac.
Ingredients
100g lentils
200g stringless green beans (tails removed)
2 fennel bulbs, tops removed
100g goats cheese
salt & pepper
150ml olive oil
1 lemon (juiced)
sumac
Method
1. Firstly to make the sprouting lentils, lay a cloth on a flat tray & pour the lentils onto this, cover with another cloth & pour enough water onto the cloth to moisten. Leave the tray in a warm spot making sure it doesn't dry out for 2 days or until the lentils have sprouted. Remove & store in the fridge until needed.
2. Place a pot of water on the stove big enough to blanch the beans, add a teaspoon of salt & when boiling blanch the beans for 1 minute, remove & place immediately into iced water to refresh, remove, drain & reserve until required.
3. Cut the fennel bulbs in half & using a mandolin shave as thinly as possible, wash, drain & reserve until required.
4. In a large stainless steel bowl mix the fennel, beans, goats cheese, salt & pepper, olive oil & lemon juice & toss. Place onto a large platter & top with the lentils & a little sprinkle of sumac.
Pickled carrot salad with quinoa, walnuts, feta & pomegranate
This salad makes a great accompaniment to lamb or grilled chicken for a Moroccan vibe. The pickled carrots can be prepared a day prior and kept chilled in the fridge in the pickling liquid to absorb the beautiful cinnamon and star anise flavours.
Ingredients
125ml chardonnay vinegar
125ml water
125g sugar
1 cinnamon quill
1 star anise
2 large carrots, cut into julienne
100g quinoa
olive oil
200ml water
100g walnuts (roasted)
200g Persian feta
salt & pepper
1 pomegranate (seeds removed)
mint & coriander for garnish
Method
1. In a pot bring the vinegar, water & sugar to the boil with the cinnamon quill and star anise included for flavouring, allow the pickling liquid to cool for 15 minutes then pour over the carrots & place into the fridge until cold.
2. For the quinoa place a pot on the stove with a little olive oil, toast the quinoa for 1 minute stirring constantly. Add the water & bring to the boil, cover & allow simmer for 12 minutes or until water has evaporated. Stir quinoa, drain & place onto absorbent paper to cool in the refrigerator.
3. Drain carrots & reserve the pickling liquid. In a large stainless steel bowl mix the carrots, quinoa, walnuts & feta, place this into a serving bowl. Drizzle with a little of the pickling liquid, the pomegranate seeds & sprinkle of the mint & coriander. Serve.
Tip: To remove the seeds from your pomegranate, cut in half, twist open and hold in your palm with the seeds facing toward it. Hit the top of the shell with a wooden spoon and the seeds will fall into your palm.