15 May 2019 | Vasse Felix
Creating wine-led menus: Brendan's Food Philosophy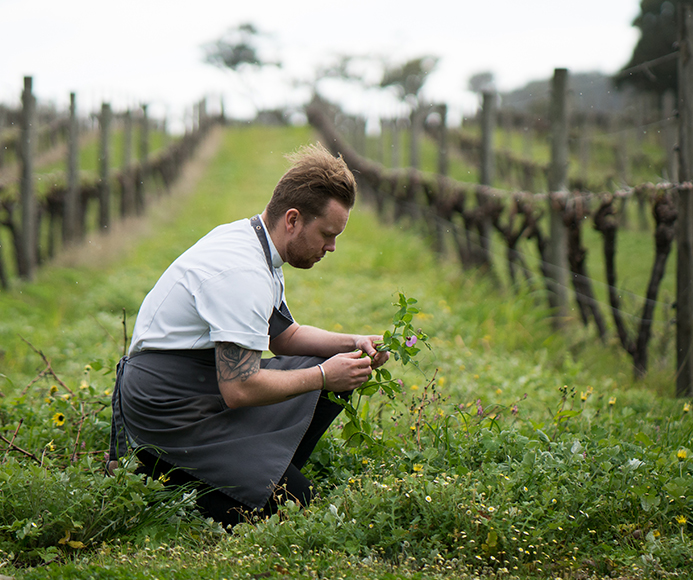 After a huge few months of accolades for the Vasse Felix Restaurant, Head Chef Brendan Pratt, whose journey has included stints at Michelin Starred 'The Fat Duck' and 'The Ledbury', shares some insights into creating a highly acclaimed, wine-led menu.
____
It's been quite a journey to evolve my food style with wine pairing at the core. It has involved a lot of tasting, creating and getting really familiar with how the winemakers describe the intricate flavours and textures of each wine, in order to develop dishes that honour them, highlight their strengths and create a memorable dining experience.
With the boundaries of wine in place, you can't go crazy, you have to be restrained. It challenges you to think, 'how else can I make this dish taste good?' For instance I recently thought a chilli flavour would be great in a dish, but when pairing with wine we don't want that heat and intensity. So instead, we set upon a process of roasting and 'salting' (half-fermenting) chillies to extract a subtle essence that brings the chilli's flavour profile without the heat.
Perhaps the biggest evolution for me has been simplicity of presentation. I've thought a lot about the depths of texture, flavour, aroma and palate that are concealed within a wine's simple package. It's the opposite of food, where often you aim to present the details visually.
So I set a boundary of showing only a couple of key ingredients on the plate in an unmanipulated style. Instead we incorporate flavour, depth and body through complex culinary techniques behind the scenes. Fermenting, creating emulsions, vinegars, infusing. Thinking of ways to capture layers of intricate and surprising nuances in our menu, similar to a wine.
The idea draws somewhat from my time in London with Heston, and his ways of using music, aromas and other sensory experiences to encourage diners to try something new. For me, it's simple presentation that makes a dish understandable and inviting. With our mushroom pappardelle dish, you're literally eating pasta and sauce, yet it's hearty, full of body and flavour from elements like a vegan XO sauce that is developed using 60 ingredients and two days preparation time.
For inspiration, I've been looking to Japan and Korea a lot lately. The unrefined, yet layered dimensions, particularly in Korean cuisine, interest me greatly, and I feel also draw parallels to the winemaking approach at Vasse Felix.