8 December 2018 | Vasse Felix
Chef Brendan Pratt's Summer Recipe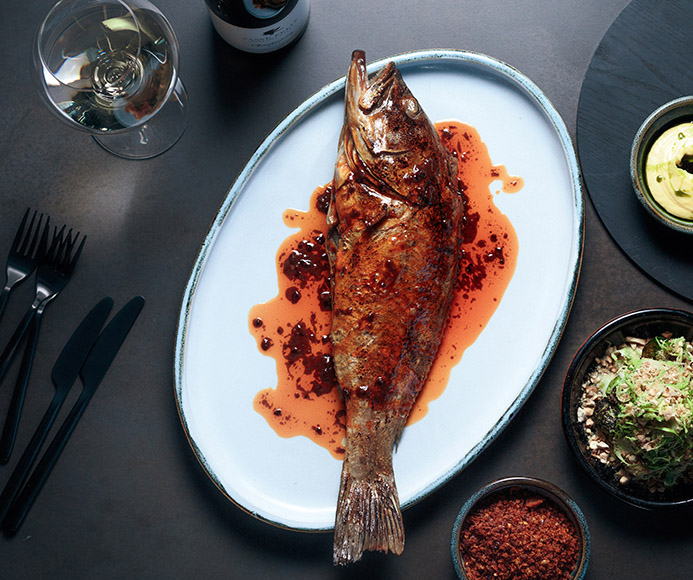 Honeycomb Cod
"It's hard to top the taste of fresh, line-caught fish, cooked to perfection with minimal additions. This recipe does just that, including some baking tips you can apply to any fish, plus a funky chilli, miso sauce to pair perfectly with the crisp acidity and wild ferment characters of the Chardonnay or Sauvignon Blanc Semillon."
CHEF BRENDAN PRATT
INGREDIENTS
1 Honeycomb Cod approx. 1kg (scaled and gutted)
200g butter, at room temperature
1 tbl spoon loganma brand chilli paste in oil
1 tbl spoon gochujang (Korean fermented chilli paste)
1 tbl spoon white miso paste
1 tbl spoon white wine vinegar 1 tsp sea salt
Oil for pan frying
METHOD
Preheat your oven to 200 degrees.
Using sharp scissors, trim off the fish's wings and fins.
In a stand mixer, add the softened butter and whip with the paddle attachment until slightly white and fluffy. Add the chilli paste, gochujang, miso, white wine vinegar and salt. Whip to combine and set aside.
In a large cast iron pan (or similar) add a tablespoon of oil and heat until it starts to shimmer. Season each side of the fish with sea salt and gently place the fish into the hot pan, sear first side for 1 minute on a medium heat, flip over and place into the oven for 5 minutes.
Remove the fish from the oven and gently flip the fish onto the other side, being careful to release the skin from the pan so it doesn't stick. Return the pan to oven for approximately 12-15 minutes.
Gently heat half of the butter in a small pan on a low heat.
Using a metal skewer, gently test the thickest part of the fish's fillet. If the skewer penetrates the flesh with no resistance, the fish is ready, if not return for a few more minutes and test again.
Remove the fish from the oven, add the cold butter to the pan and let it foam. Using a big spoon, baste the fish with the foaming chilli butter, being sure to evenly coat the fish in foaming butter. This will help to finish cooking the fish, trap in the moisture and also impart flavour on the flesh.
To finish, plate the fish on a large plate and dress it with some of the warm melted chilli butter.